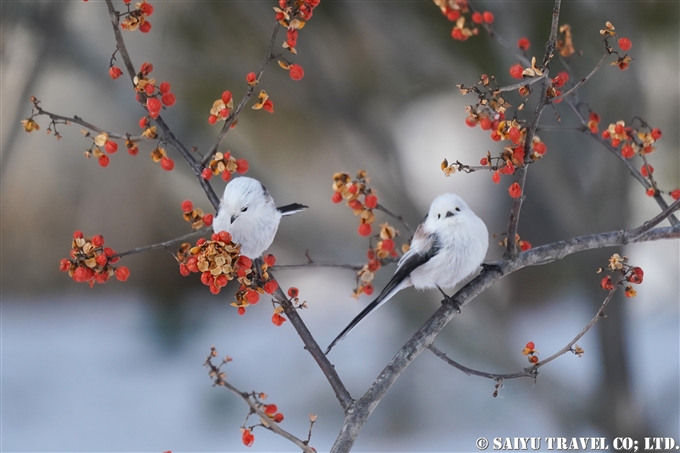 This is a report of the Winter Eastern Hokkaido Photography Tour.
After getting photos of the Steller's sea eagles and white-tailed eagles at Lake Furen, we moved on to a chance to photograph the Long-tailed tits. While we were getting our cameras setup, the first bird we encountered was a Eurasian nuthatch. The species Sitta europaea asiatica, which inhabits Hokkaido. And then, the Japanese tit, and the great spotted woodpecker made an appearance and then finally we could hear the calls of the long-tailed tits! In Hokkaido, the long-tailed tit is a subspecies of Aegithalos caudatus japonicus, which is one of the 4 subspecies in Japan. It has a head of all white and looks really cute!
They came to the feeding station and the Japanese bittersweet Celastrus orbiculatus which was prepared for the photographer…this set up really highlighted the cuteness of the long-tailed tit.
Long tailed tit シマエナガ|西遊旅行 Saiyu Travel

This winter, there were new things to look forward to in Eastern Hokkaido!
In Nemuro, we observed the Steller's sea eagles, white-tailed eagles and other birds at Lake Furen, and in Habomai Port, we could see ducks and some seabirds (though at a far distance) at Cape Nosappu's Northern territory. It was a very pleasant and fulfilling journey!
Image & Text: Mariko SAWADA
Observation: Feb 2021, Nemuro, Hokkaido
Special Thanks: Lodge "Lake Sunset"
Tags: Wildlife of Japan, Shimaenaga, 根室, Birds of Hokkaido, Enaga, Birds of Japan, Bird watching in Japan, Wildlife Photography tour in Japan, Nemuro, Wildlife tour in Japan, Lake Furen, Birds Photography of Japan, Lake sunset in Furen Lake, Birding tour Japan, Furen Lake, Bird tour Japan, Lake sunset, Bird Watching Japan, Wildlife in Japan, Wildlife of Hokkaido, Long-tailed tit, Wildlife in Hokkaido